Welcome to the Cleaner &  Cleaning company in Bangladesh.
We are very pleased to introduce "HSL Hygiene Services Limited" as a promising cleaning & Maintenance Service provider in this country. We are providing different best cleaning service, cleaner service &  pest control services with adequate machinery, equipment & method. We are practicing a world-class cleaning module to solve your cleaning problems.
We Are a Professional Carefully cleaning & Cleaner company in Bd.
HSL Hygiene Services Limited knows how to prevent pests from any premises for good. As a pest control company as well as a cleaning company in Bangladesh, at first, we'll examine the whole cruise of creepy pests on your premises. Our experts have the ability to deal with facility service, regular cleaning, specialized cleaning, office cleaning,  rodents, bed bugs, mosquitoes, cockroaches, termites, fleas, beetles, and other harmful pests. We're a well-known cleaner company in Bangladesh. Our skilled exterminator will check every source of pests. A pest control or cleaning company in Bangladesh will assess the level or type of infestation living at your place and set a plan which can successfully eradicate the pest from your place. As the best cleaning company in Bangladesh, we ensure our infestation process doesn't cause any health risk to you and your family.  
Specialize Cleaning Service
WHY CHOOSE HSL HYGIENE SERVICES LIMITED
 HSL Hygiene Services Limited is a cleaning company in Bangladesh that has great expertise in house cleaning services, office cleaning services, carpet cleaning services, sofa cleaning services, glass cleaning services, maid services, and controlling pests. We create customized plans for every place to eliminate pests. Besides, we can ensure 100% eco-friendly pest control service according to customer requirements. As a cleaner company in BD, we've skilled technicians who know the appropriate use of pesticides. If you're looking for a cleaning company in Bangladesh to control the pest at your place as well. You should choose us as we provide pest control as well as cleaner service in Bangladesh
01.
Trained Workers
Trained worker is a must for our services. Our Professional Training would make sure that the worker knows his job and his responsibilities.
02.
High class cleaning materials
Our Tools and Equipments are of best Quality. We provide materials in time and make sure, no faulty materials sending
03.
Customized Service
We prepare work plan according to client Requirement and also instruct and monitor to follow this plan
04.
Quick Worker Replacement
We have a set of worker to provide quick replacement for absent workers
05.
Licensed Electricians
We use world class branded chemicals for our cleaning. At Hygiene, you don't need to worry about the chemical quality, it provides
06.
Proper Service Monitoring
We know, proper monitoring is very important to maintain service standard. We never show casualty in monitoring the job of our workers and overall service standard
07.
Personnel hygiene of workers
As a Professional Hygiene Service Provider, our workers must follow personal hygiene Guideline to maintain personal Hygiene
08.
Periodical Master Cleaning
We ensure, periodical master cleaning cannot be missed at our Regular Cleaning site.
09.
Regular interaction with clients
As Client is the main part of our service, we share our thought on regular basis, so that, we can immediately know our immediate tasks to gain client satisfaction.
Do you need any help for Cleaning Services?
BEST CLEANING SERVICEs IN Dhaka, BANGLADESH.
Having a neat and clean home or working area carries an essential aspect in a person's everyday life. You spend most of your time at home or in the workplace. A clean home gives you a feeling of calm and comfort. A clean workplace motivates you to work more. What if the surroundings around you are full of dust or dirt? It gives you quite opposite feeling. Who doesn't enjoy a clean and tidy environment! But cleaning and maintaining your properties or surroundings can be overwhelming and difficult at the same time. Because nowadays both male and female are busy all the time. Their schedules tend to be filled with social, work, and family responsibilities. With such a busy schedule it's really hard to manage time for your personal life. There's no time for maintaining your place like 1950s housewives. So why not just call us for the best cleaning service in Bangladesh? HSL Hygiene Service Limited is available to provide cleaning services in Dhaka and parts of Bangladesh.
WHY IS CLEANING IMPORTANT FOR EVERY PLACE?
Cleaning is important in every sector. It makes you feel welcomed and keeps your mind fresh. So let's know the importance of cleaning in every place.
HOUSE CLEANING SERVICE
There's no difference between a clean home and heaven. Though it takes a lot of effort to maintain a clean house. If you clean your house regularly it will always look fresh and beautiful. On the other hand, a disorganized and dirty house creates a sense of chaos and discomfort. The task cleaning is really challenging but still, you need to keep your house clean because-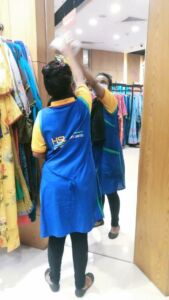 It kills germs: The immune system of the human body can be interrupted because of germs. It makes you sick. But continuous house cleaning with disinfectant properties kills all the harmful germs and keeps you or your family healthy.
Improves indoor air quality: Allergies and asthma can be triggered by poor indoor air quality. But cleaning the house regularly may improve the quality of air inside the house.
Ensure better sleep: Is there anything better than jumping in a clean bed? I guess, No. a bed with a neat and clean bed sheet and pillow help you sleep well.
Good for children: None wish bad for their children. Then why not keep your house clean? In an untidy and dirty environment, your children may fall sick so easily. At the crawling age, your toddler tends to pick up things from the floor and put that in the mouth directly. By cleaning the home properly, you can ensure good health for your children.
Staying organized: To keep everything in your house in great order, one needs to clean the house very often. By doing this, you don't have to look around to find your important documents or files.
Prevent pests: Pests are probably the most unwanted wildlife you want in your house. They contain the ability to destroy anything in your house. Most of them like dirty, warm, and unhygienic places. Above all, pests don't feel welcomed to a clean place.
OFFICE CLEANING SERVICE
It's extremely important to maintain hygiene in the workplace. Commercial cleaning service in Dhaka is very important to maintain hygiene in the workplace as the city is full of dirt and dust. Keep reading to find out more about the importance of office cleaning.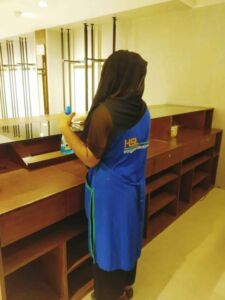 Working comfort: A dirty workplace creates discomfort for all employees. For example, Garbage beside a cabin full of dirty things emits an odor that is pretty distracting and annoying. A clean environment gives them working comfort and makes them productive.
Prevent sickness: What if your employees are falling sick very often? It may bring loss in your business. so what can make your employees sick? Dust on the table, cockroaches running around the food, and more. By eliminating all these from the workplace, you can build a clean environment that prevents frequent sickness in the employees.
An organized workplace: The employees are not finding important files! In a file, the papers are eaten by pests! Or your employees have to dig for dirt to find! These are some of the horrible scenarios your employees may face at their workplace. But a clean working environment not only keeps things organized but also makes the worker's life easy.
WHAT ARE THE TYPES OF CLEANING YOU CAN EXPECT FROM CLEANING SERVICES IN BANGLADESH?
There're several types of cleaning services you can expect from cleaning services in Bangladesh. Keep reading to know more about this.
Residential cleaning: A process of cleaning residential or domestic areas also known as household cleaning service. You can take a household cleaning service with your well-earned money. Usually, customers take this type of cleaning service in Dhaka because they tend to spend so much time at work and others. Besides, cleaning is also a very challenging task. So if you're willing to spend quality time with your family and friends, you should definitely go for a residential cleaning service in Bangladesh. The services include:
Room cleaning.
Bathroom cleaning.
Kitchen cleaning.
Vacuuming or dust
Washing, ironing, tidying, stair cleaning, and more can be added to this service.
Commercial cleaning: Also referred to as office cleaning. You can avail of such services for the commercial buildings including- office spaces, schools, community buildings,s and more. Here the authority can schedule cleaning hours on a regular day or on the weekend. The common commercial cleaning services are-
Carpet care.
Window washing.
Mopping.
Vent cleaning.
Toilet cleaning and more.
Dry cleaning: People often think laundry and dry cleaning services are the same things. But laundry cleaning uses soap, detergent powder, or softeners to wash clothes and others. On the other hand, dry cleaning services use high-end chemicals to clean things. Both residential and commercial premises should take this type of service. The service includes-
Quilt cleaning.
Bed cleaning.
Dining furniture cleaning and more.
Sanitization and disinfection service: Due to COVID-19. Many of us have health issues. Though corona is becoming a new normal, do you think we're safe as the vaccine has come? Even if you take the vaccine, your health is still at risk of getting this virus. Disinfecting and sanitizing your surroundings regularly can vastly reduce the chance of getting the virus. Sanitization and disinfection can destroy any virus, bacteria, and harmful elements from your premises. You should take this cleaning service in Dhaka to live a healthy and peaceful life.
Pest control service: The pest management industry is quite large. Household and commercial pests are something we don't think about until it becomes a big one. You, the family, and the children want to walk, sit, eat or play without worrying about bugs, cockroaches, rodents, and other pests. Pests make you miserable. In the workplace, employees can't do their work properly because of pests. Even some of these pests carry dangerous diseases that lead to serious health issues. Such as Asthma, Dengue, Allergies, Plague, Malaria, and more. By taking pest control service in Bangladesh, you can eliminate various types of pests from your premises. Such as-Rodents.
Green cleaning: The term 'Green' illustrates a move to save the planet as well as the ecosystem. In this type of cleaning system, we use fewer chemicals while cleaning the premises. Most businesses support green cleaning services in Bangladesh as it represents their good reputation in front of society. They gain respect from society because of their sense of social responsibility. This eco-friendly service should be taken by businesses, households, hotels, restaurants to ensure their manpower's good health.
Pressure washing: By using a powerful stream of water pressure washing services process the work. Usually, the service provider uses a high-pressure water spray to wash –
Dirty carpets,
Muddy buildings,
Loose paints from the walls,
Objects filled with grime.
Muddy vehicles and more.
WHY SHOULD YOU HIRE A PROFESSIONAL CLEANING SERVICE IN BANGLADESH?
To tackle your home and business premises from dirt, dust, pests, and others you should hire a professional cleaning service in Dhaka. Whether home or workplace, a clean place is always comfortable to live in. Besides, it's a lot healthier to live in a clean place. Cleaning residential or commercial areas thoroughly is necessary and hard at the same time. Even if you have a maid who's scrubbing the required area almost every day.  But sometimes you should give your properties a professional touch. It would be like a facial to them! Cleaning doesn't only mean eliminating dust or dirt from the properties. What about the unwanted wild guest at your premises? Can't understand whom am I talking about? I'm talking about the rodents, cockroaches, and others that are eating your food, cutting the electric cables, giving birth at your closet, and roaming around the house like a boss. Trust me! You can't eliminate them all alone. You have to hire a good cleaning service in Bangladesh. Let's know more about why you should hire them-
Professional tools and equipment: Professionals need professional equipment to clean premises. Without professional tools, it's quite impossible to dismiss any type of stain or dirt. The biggest advantage of hiring a professional is they can clean your properties as new as you have bought. Professional tools are hard to buy. You don't even know which tool to use.
Pay as per your need: By hiring a professional, you'll only have to pay for the service you've taken. Suppose, you had a guest at your place. You hire a professional to do a deep cleaning on the areas you need cleaning and pay for only that particular service.
Get rid of the tiniest bacteria or germs: Keeping your home clean reduces the risk of getting sick because of the germs around your premises. Even a simple professional touch can reduce a great number of germs. By cleaning the germs you not only get healthier but also feel better.
Professionals know better: All the housewives think they can clean better than anyone, it's true in some sense. Probably there're areas you don't want to clean. Especially the places where pests live and even the touch-to-reach areas. Sometimes these areas become forgotten and get the chance to build more dust and dirt. Only a pro can clean these types of areas.
Chemicals are not safe: Sometimes you may feel you can buy chemicals, mix them and use them on your own. But this is something that should not happen. You may not be able to mix them at the right proportion. In case these chemicals enter into the body through the mouth or nose. There's a high chance you get serious health issues. Pros maintain good safety and know how to use the chemicals properly.
Pros maintain a unique system: When you clean your home, you clean all the corners using the same system. But the experts who provide cleaning services in Bangladesh know how to clean up the premises using an individual system.
CONCLUSION
No matter where you live, where you work. You always prefer to walk around a neat and clean place. Commercial areas deal with a lot of materials. So cleaning is not an easy task for anyone. So hiring a professional is always a good choice for the best cleaning service in Bangladesh. With trained staff and environmentally safe cleaning services, HSL Hygiene Services Limited ensures quality cleaning service in Dhaka, Khulna, and all over the country. So keep the environment and the premises around you neat and clean. So that you along with your family can lead a healthy life.
Note: Carousel will only load on frontend.